We are so fortunate to have a dance studio that was willing to barter for Lexi's dance lessons last year. It helped tremendously and (in the midst of all the lay off drama)took one item off of our worry list. Apparently the deal worked out so well that the owner asked if Lexi would like to take more classes. That would have been great except for the fact that Abby has been begging to go to ballet for awhile now. The owner was completely open to working a similar deal for Abby and so Abby began taking dance classes this summer.
She was so excited for the first day of class when she could dress up in the tights, leotard, skirt, and slippers. She also loved the bun and once she was all dressed she was all smiles.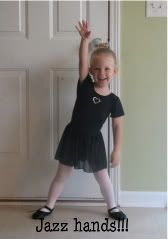 When we got to the studio, she had a bit of an issue when she realized that she would not be in Lexi's class. Considering she has not necessarily been in a class environment up to this point I think she did very well. She came out to the lobby quite a few times but I think that was because the door was left open.
Anyway, here are some pics from her first class. She's the only one in black.